Below you will find our current schedule of classes. Our Fall 2020 schedule of classes has not been updated yet. All classes run from August 17th, 2020 to June 11th, 2021 unless otherwise noted. Please note that Jazz, Modern and Contemporary classes must be accompanied by a Ballet class. Click here for detailed descriptions of the classes.
Location

Name

Day

Time

Studio A


Ballet II
Ballet technique for students in 6th grade and up with previous experience. Must also take Ballet II class on Wednesday 4:00pm-5:30pm

Monday

6:15 PM to 8:15 PM

Studio A


Tap II
Tap technique for dancers with previous years experience in 9th grade and up.

Monday

5:15 PM to 6:15 PM

Studio A


Ballet II/III & Pointe
Ballet & pointe/pre-pointe for 7th grade & up

Monday

6:15 PM to 8:15PM

Studio A


Tap III
Tap for High School level

Monday

5:15 PM to 6:15 PM

Studio A


Primary 2/3 Combo (2nd/3rd Grade Students)

Jazz, Ballet & Tap combo for 2nd graders

Thursday

3:45 PM to 5:15 PM

Studio A

Cardio Hip Hop
Ages 8 and up. Our high energy cardio hip-hop class will have your dancer moving and grooving with the latest dance moves while having fun with their friends. No previous experience is necessary.

TBA

TBA

Studio B


PreDance 5 (Kindergarten Combo)
Ballet, tap, hippety-hop jazz, and acrobatics for Kindergarten and 1st grade.

Monday

3:45 PM to 4:45 PM

Studio A


Ballet/Jazz Level 1
Ballet & Jazz Technique

Thursday

6:45 to 8:15PM

Studio B


PD3 Ballet/Tumbling
Ballet & Tumbling for dancers 3-4 years old.

Monday

5:00 PM to 5:30PM

Studio B


PreDance 4
Ballet, Tap, and Tumbling for 4 year olds.

Monday

Mon-5:45PM to 6:30PM

Studio A


Primary 4-5 Jazz/Hip Hop/Acro
Jazz, Hip-Hop, and Acrobatics

Tuesday

5:00PM to 6:15 PM

Studio A


Contemporary Jazz/Hip Hop/Acro
For High School. Contemporary Jazz, Hip-hop, and Acrobatics for 7th grade and up with previous experience. (invitation only)

Wednesday

4:00 PM to 6:15 PM

Studio B


Primary 2/3 Combo
Ballet, Tap & Jazz for third graders

Thursday

3:45 PM to 5:15 PM

Studio A


Ballet/Tap Level I
Ballet & Tap for 6th grade students and up

Tuesday

6:45 PM to 8:15PM

Studio A


Jr. group
*By invitation only

Friday

5:00-6PM

Studio A


Ballet II


Wednesday

6:15 PM to 8:15PM

Studio A


Performing Group Modern & Rehearsal
*By invitation only- Ballet technique and rehearsal for community performances.


Friday

5:30 PM to 8:00 PM

Studio A

1st Grade Combo




Tuesday

3:45PM to 4:45PM
Pre Dance
(ages 3-6) At age 3, our youngest dancers will learn the fundamentals of dance such as rhythm, coordination, grace and expression as they foster a love for dancing. Dancers will explore freedom of movement thru creativity while learning proper dance technique and terminology. The skills developed in this playful environment will lay a foundation for future technique classes. At 4 years old, dancers will add tap to their curriculum and continue to enhance their rhythm and counting skills that they are simultaneously building upon in their school classes. At 5 years old, hippety-hop jazz and acrobatics is added to their class to provide an upbeat, exciting twist to the skill sets they have already been developing.
Ballet
(ages 3 & up) Ballet is a classical dance form that is considered the foundation of most other genres of dance. It develops poise, grace, strength, and proper body carriage. Dancers are taught correct body placement and alignment along with terminology that will be utilized in all other disciplines in the dance world.
Tap
(ages 4 & up) Tap dance is an exhilarating art form that builds concentration, coordination, rhythm, speed, and dexterity. Tap dancers use their feet like drums to create rhythmic patterns and timely beats. Dancers love to put on their tap shoes as they are invited to "make some noise" in this class.
Jazz
(ages 7 & up) Jazz dance is a strong, dynamic technique that promotes body strength, flexibility and coordination. It is best when paired with ballet class so that dancers receive proper body technique and placement. The steps in jazz are more grounded and each dancer is able to execute the moves by adding their own personal flair and style as they interpret the music through their dancing.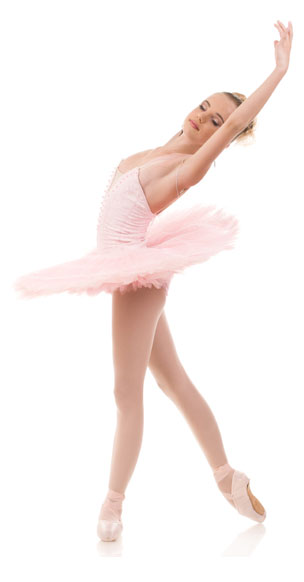 Hippety-Hop Acro
(ages 5-8) This high energy, fun class will incorporate quicker footwork, isolations, and rhythm as well as building cardio and coordination. This class also promotes stretching and strength skills as it combines hip hop with acrobatics. All music is age appropriate.
Hip Hop
(ages 8 & up) Hip-Hop is a cultural urban base dance form (street dance) that is connected, derived, and inspired through African roots and soul. Utilizing high and low impact footwork and isolations, Hip-Hop is very practical for both performance on stage, or being social on the dance floor. Benefits such as developing improved overall general movement, free range of motion, body control and awareness, musicality, and most importantly a fun healthy workout can be expected.
Acrobatics
(ages 6 & up) Acrobatics promotes flexibility, strength, coordination, and endurance. Students will work on controlled skills such as: front/back walkovers, cartwheels, and a variety of balancing tricks. Each student will work at his/her own level and progress at their own pace.
Contemporary
(ages 11 & up) Contemporary dance combines elements from several styles of dance including ballet, modern, jazz, and lyrical. Dancers use improvisation and personal connections to help open up their freedom of movement so they can develop their artistry as they strive to create more fluid movement patterns.